A bond that has stood the test of time
A White Rock woman has been recognized for her tireless work preserving Dutch heritage, culture and language in Canada.
And up until the Netherlands consul general in Vancouver, Johannes Vervloed, asked Edith Bijdemast to stand beside him while she was visiting his home April 26, the retired Surrey teacher had no idea she was being honoured with the Knight in the Order of Orange-Nassau award.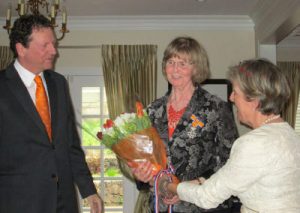 "I thought we were going to celebrate the (King's Day or Koningsdag), so when I walked into the room and noticed that my sister, my sister-in-law and my brother were there, I thought 'oh, that's odd,'" Bijdemast told Peace Arch News, laughing. "Then when I saw the consul general and he asked me come forward because he had something to present, I was very confused. I was quite flabbergasted."
Bijdemast had been awarded the prestigious honour for her involvement with the Netherlands Association "Je Maintiendrai" and for establishing the Greater Vancouver Dutch Network, which she created to connect with younger members.
Through the association and the network, Bijdemast has helped countless new Canadians from the Netherlands settle in, connected long-lost family members and friends and has helped keep the Dutch culture alive in her community and beyond.
At the heart of her passion is Bijdemast's mother, Henny, and her late father, Henk, who survived the German occupation of the Netherlands during the Second World War when they were teenagers.
Both were faced with dire situations during the Nazi occupation, with Henk taken away by the Germans for forced labour and Henny having to endure the horrific conditions of Hongerwinter (Hungerwinter) in 1945. Some 18,000 Dutch civilians died from starvation and malnutrition during Hongerwinter as they were cut off from food supplies, despite efforts from the Royal Canadian Air Force to co-ordinate air drops of food.
"My mother, in the last year, survived on eating tulip bulbs and sugar beets. That's all they had for food," Bijdemast said, noting her mother is now 90. "It was also one of the coldest winters on record and there was no fuel, so people were starving to death and dying of the cold."
Because of the liberation and rescue efforts of Canadians, the Netherlands and Canada have had a very strong bond, Bijdemast explained.
Every May 4 – including this past Sunday at White Rock City Hall and at Royal Canadian Legion #008 – the Dutch community marks the liberation with a memorial service called Dodenherdenking.
Previously held at Victory Park in Vancouver, the memorial service was moved to White Rock four years ago, with Bijdemast organizing the transition.
She noted that each year, the crowd continues to grow and she hopes that doesn't change.
"We want to teach youth that did not go to war that what they have today did not come on a silver platter, it is a result of people that really gave everything they had," she said.
On a larger scale, she added, Holland sends thousands and thousands of tulip bulbs to Canada each year to mark the liberation, including the tulips that can be seen outside of White Rock City Hall, near the cenotaph.
"So when you look around and you see tulips, a lot of them have been donated by Holland," she said. "When I'm there, at the service, I get quite choked up about it. Because if (the Canadian soldiers) didn't come, my mother probably wouldn't be here and me and my sister wouldn't be here, either.