Wednesday October 19, 2022
Dutch Network Kumpulan Event!
This event is for Dutch Network members + 1 guest only. The events start at 19:00 on October 19. Tickets of $40.00 pp include your food, GST, and gratuity. Drinks are sold separately. Please note that tickets are only sold in advance, and we have limited seating. We do not sell tickets at the event.
If you are a member of Dutch Network, join us for our first annual Indonesian dinner event and meet your fellow members. If you are not a member, purchase your membership before you purchase your dinner tickets! Indonesian food is part of the Dutch-Indonesian colonial heritage. Delicious Indonesian meals are often part of festive occasions in the Netherlands and are to be enjoyed with family or friends. Celebrating Indonesia, Dutch Network curates an exquisite selection of diverse and delicious dishes from Indonesia.
Welkom / Welcome to the website of the Dutch Network!
Events are organized for Dutch-Canadians so that they can get together to celebrate, enhance and preserve the Dutch heritage, Dutch language and Dutch cultural traditions in BC, such as: monthly pub nights and coffee clubs, annual events which include King's Day, Sinterklaas and the Easter Egg Hunt. Find an overview of our events below. We look forward to seeing you at our events!
If you are interested in getting involved, please click on the link for volunteers in the link above or write us a message via Contact Us.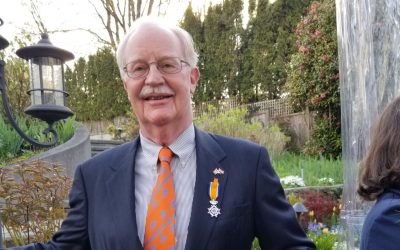 On April 27, 2022, Erik van der Ven received a Koninklijke Onderscheiding from  his Majesty, Koning Willem Alexander of the Netherlands and became a member of the Order of Oranje-Nassau. 
read more
There are no upcoming events at this time.
Events for week of December 5, 2022
This Week Navigation

December 7 @ 7:30 pm
-
10:00 pm
December 9 @ 9:30 am
-
11:30 am
December 10 @ 8:00 am
-
9:00 am