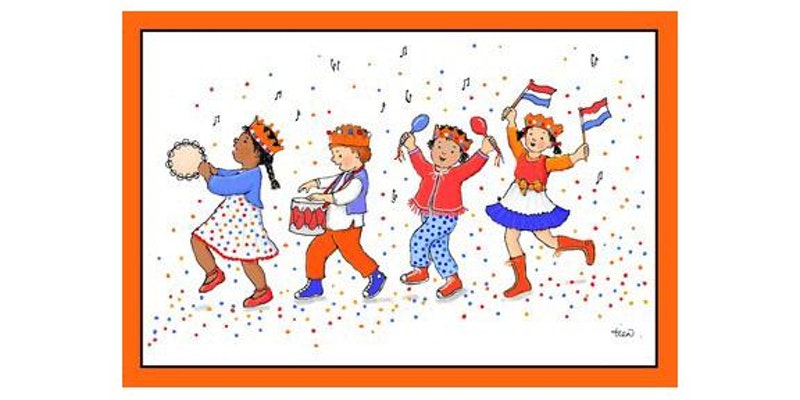 Koningsdag VOOR KINDEREN (KING'S DAY CELEBRATIONS FOR KIDS) – 5 MAY 2018
MEMBERS OF THE DUTCH NETWORK WILL GET 50% OFF OF THE TICKET PRICE!
Time: 10Am – 2pm
Venue: Blue Mountain Park
975 King Albert Avenue
Coquitlam, BC V3J 1X4
Tickets are available via PayPal or by sending a cheque.
It is currently not possible to pay by credit card.
De Koninsdag viering begint om 10 uur op 5 mei 2018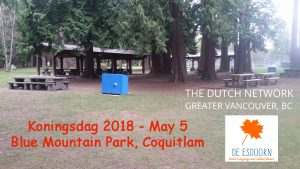 Dit "not for profit" evenement wordt georganiseerd door de Nederlandse school De Esdoorn in samenwerking met De Dutch Network. Ons doel is de entreeprijs zo laag mogelijk te houden, zodat het feest voor alle gezinnen betaalbaar blijft. Daarom zijn we erg afhankelijk van sponsoren en donateurs. Uw bijdrage zal gebruikt worden voor het huren van het park, het aanschaffen van materiaal voor de spelletjes voor de kinderen, het huren van een tent (in geval van regen).
This is a "not-for-profit" event organized by the Dutch School De Esdoorn and the Dutch Network. We would like to keep the ticket prices low so that they're affordable for all families. This means we are very dependent on donations and sponsorship. Your contribution will be used to cover the cost of the rental of the park, buying materials for the games, and rental of the tent (in case it rains).
Wat is er te doen?
10 tot 12 uur: spelletjes en vrijmarkt
12 tot 12:30 uur: kort programma met volkslied en Koningsdagdans door kinderen
12:30 tot 2 uur: spelletjes en vrijmarkt
Nederlands eten zal verzorgd worden door de The Dutch Food Truck: http://dutchlicious.ca
What to expect?  
10am to 12pm: games and 'vrijmarkt' (vrijmarkt is basically like a garage sale) noon to 12:30pm: short program with national anthem and Koningsdag dance by children 12:30 to 2 pm: games and 'vrijmarkt'  
Dutch Food will be provided by The Dutch Food Truck: http://dutchlicious.ca