Horse Racing Entertainment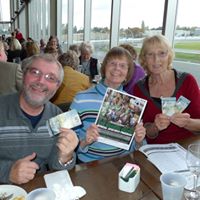 *******DATE TO BE DECIDED********
Enjoy a Lunch Buffet with Horse Racing Entertainment, 12:00 pm to 4:00 pm, at Fraser Downs in Cloverdale, Surrey. This is an event that the whole family can enjoy. There are floor to ceiling windows and each table in the "Homestretch" dinning area also has an individual small TV screen to see the horses even closer. Doors open: 11:45 pm. Buffet: 12:15 pm to 2:15 pm, includes salad bar, hot dishes, roast meat, and a choice of 2 from an array of desserts. Races take place from 12:45 pm to 4:00 pm. Watch 9 to 12 live exciting horse races and place a wager if you feel so inclined.
$30 per person includes the buffet, non-alcoholic beverages (tea, coffee, juice, or pop), 3 programs per table to share, tip & HST. Admission for children, 10 years or younger is $15 each. Prepaid tickets are required (will be available soon).
We will reserve 5 tables for 6 people each, so there will be room for 30 people.
Be sure to bring 2 pieces of ID (one with a photo) to this event to meet government regulations.
Related Events